THE FASTENING BELT must always be mounted first. The height of the backrest, where the belt will be mounted, must reach at least to the level of the user's shoulders. It is also necessary that the seat, where the belt will be mounted, has a gap between the seat and the backrest in order to pull the belt through and tighten the fastening straps properly.
THE FASTENING BELT is available in two sizes:
mini – 12 cm wide, has 3 loops and 2 fastening straps, for children up to 8 years old,
maxi – 15 cm wide, has 5 loops and 2 fastening straps, for children over 8 years old.
The loops in the fastening belt make it possible to install the other elements of the Belticar® System at the appropriate height, depending on the user's needs.
The fastening straps are used to buckle up the belt at the rear of the seat. Place the upper straps over the backrest, and pull the lower straps through the gap between the backrest and the seat. Next, buckle up and properly tighten the straps.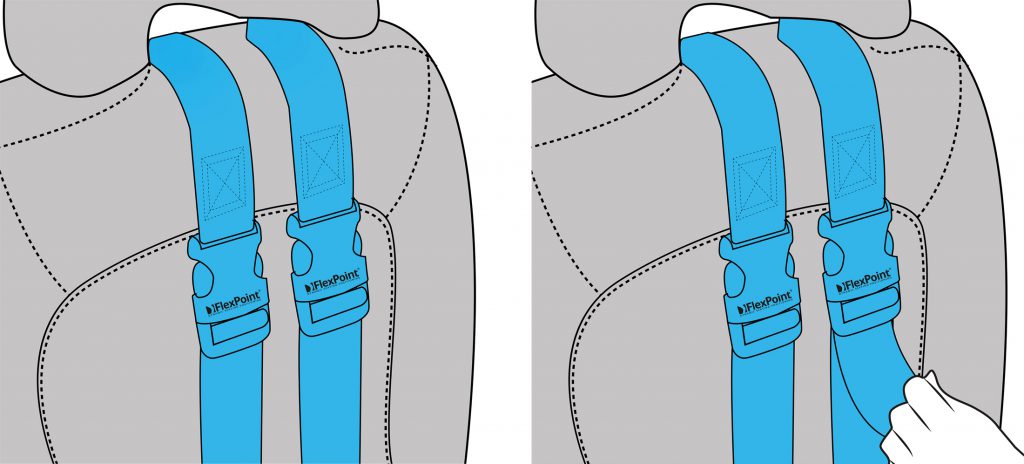 The BeltiCar® System
The BeltiCar® System has been created in order to provide the patient with safety and comfort. It guarantees proper stabilization and maintains the correct sitting position. It is recommended both for disabled and healthy people, including children. It can be used by people with paresis, after paralysis, and with limited control over their bodies. The versatility of the BeltiCar® solutions makes it possible to use them on any seat with high and rigid backrest which give the possibility of pulling the belts through between the backrest and the seat. The system consists of individual elements with different sizes and adjustment possibilities. Individual belts are installed on the fastening belt, which is the basic element of each configuration.
The belts are designed to keep the correct sitting position and do not limit the movements of the user. The belts can be installed on swing sets, whose backrests qualify for mounting the fastening belt, and at home securing the correct sitting position on the chair, for example while watching TV. They can also be used in wheelchairs or positioning chairs. The BeltiCar® System is recommended for use with safety belts in private or public transport. It can be used while travelling by car or bus, regardless of age.
ransportu prywatnego, lub publicznego. Z powodzeniem może być stosowany w czasie podróży samochodem lub autobusem, niezależnie od wieku.
| | |
| --- | --- |
| | THE FASTENING BELT (FP-40) cannot be used independently. It provides the stabilization and properly secures the patient when used in combination with other Belticar® System elements. |
| | Using the Belticar® System in vehicles does not release the user from the obligation of using the regular seat belts. It is compatible with all types of safety belts used in vehicles. |